Wins 2nd Place at Honda Research & Development – Ohio Center Car Show
I read about Scott's car on The Factory Five Forum (if you're not a member, you can follow the link and join up and become a member for free), and wanted to share it with you guys. The car is meticulously-built Mk3 Roadster. Scott's overview is below.
Dave Smith
President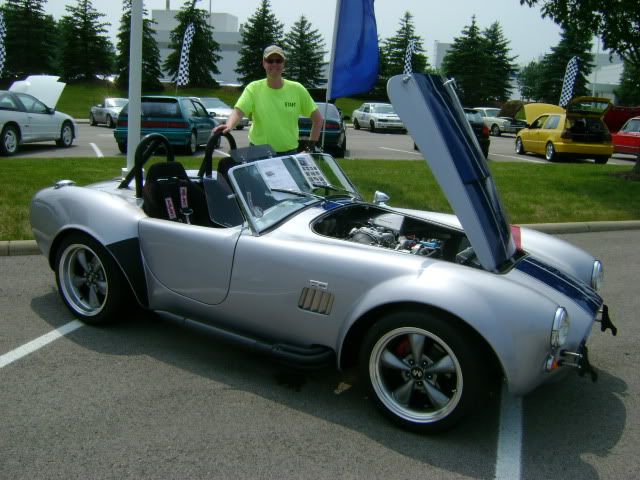 "I'm not much into car shows that are judged for trophies, etc…but last Friday was our annual Associate Car Show at my work (Honda Research & Development – Ohio Center). It's been an event I have wanted to take my car to for three years now, and the timing finally worked out. If only the weather would have been better – the forecast was less than 30% chance for T-Storms and right after I got to work it started to pour down rain and didn't stop for about 4 hours. I finally had to relent and move my car to our central plant so it could dry out.
But it did finally stop raining, and the show went off in the afternoon. The company associates pick their favorites (around 1,200 people) and I ended up placing 2nd for the Automotive Division.
The awards were created by some of the design engineer staff on CATIA, and then our Fabrication department made them on the Flow Jet, finished off by our Paint Department with the lettering, polishing and clear coat (they are made from sheet aluminum)."
Scott Meyer